We have chosen to cultivate and make wines using viticulture integrée; with care to maximize qualitexpress their typicity.
Viticulture intégrée means plowing the soil instead of using herbicides to control weeds, minimal phytosanitary intervention for pests and disease, and careful management of vegetal growth and crop yield (made somewhat easier by the age of our vines and low-yield). Harvesting by hand is also essential. These techniqueattacks and improve the quality of our final product.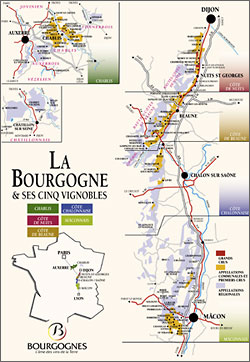 The vinification process is traditional, with the exception of 4-5-day cold prefermentation maceration (12°C), which is used to extract more glycerols from the grapes and improve the wine's texture and richness.
Apart from that, all other vinification techniques are as natural as possible, seeking above all, a wine with good balance among the fruit flavors,tannins and acidity. No more than 20% new oak barrels are used for aging the wines in order to preserve their upfront fruit flavours which lead into a more complex middle palate and linger through to the finish.
With the exception of our Gamay-based BGO, all our red wines are made from pinot noir grapes.
Our wines have been featured in various magazines and guides, such as Bourgogne Aujourd'hui, Vinbladet (Denmark), Guide Artevino – Vini e Percorsi di Borgogna (Italy) , Guide Hachette (the 2007, 2008 and 2009 editions) and Bettane & Desseauve 2009.
Please note that the ageing potentials for the wines are approximate. Storing conditions, vintage etc are of great importance.
The 2003 and 2004 tasting notes are from a tasting which took place at our domaine in February 2006, with Jan Castaing, oenologist. The tasting for the 2005's took place in January 2008 and the 2006 tasting in December 2008.
For further information about Burgundy wines (cards, meals/wines to be served etc), please go to BIVB's web site (Bureau interprofessionnel des vins de Bourgogne) or Bergman's Bourgogne.