• Bourgogne (Régionale, red) •
Grape variety: Pinot Noir
Age of vines: 42 years
Location and soil type: Located in Chorey les Beaune, two 40 year old plots gathered: Les Poulardots and Les Boyardes; deeper soils.
Ageing potential: 5 years
Food and wine matching: Pork roast, cold cuts.
Tasting notes:
2006: Colour: Garnet, with a lovely clarity. Nose: Closed at first, it opened to reveal aromas of raspberry and blackcurrant. Palate: Fresh, fruity and fairly powerful, with a good tannic structure and length.
2005: Colour: deep red with purple nuances. Nose: fruity and fairly complex; hints of blackcurrant and raspberry. Palate: fruity and concentrated with marked tannins. Well-integrated oak, which supports the palate with soft, spicy notes. Ready 2009-on.
2004: "Very fruity on the nose, with odors of raspberries, wild strawberries and elderflower. The oak comes through in hints of liquorice. On the palate, the fruits are tart but ripe, with a good acidity and flavors of fresh berries and redcurrants (bottled in September 2005)". Guide Hachette 2007.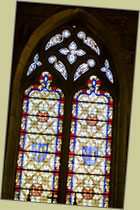 About Bourgogne:
The regional appellation Bourgogne stretches over three of Burgundy's four départements. There are 299 communes that are entitled to this appellation – 54 communes in Yonne, 91 communes in Côte d'Or and 154 communes in Saône-et-Loire. The total area under production is about 2830 hectares.
Wines from this appellation can be red, rosé or white. The principal grape variety for red and rosé Bourgogne is pinot noir, with the addition of césar in Yonne. For white Bourgogne it is chardonnay.
The vineyards of this appellation can often be found just outside the well-known village appellations. Along the Côte d'Or the regional appellation vineyards are usually down slope, below the village and premier cru vines.
Together with the other regional appellations – such as Bourgogne Aligoté, Bourgogne Grand Ordinaire and Bourgogne Passetoutgrain – Bourgogne accounts for slightly more than half of the wine production in Burgundy.