• Savigny les Beaune (Village, white) •
Age of vines: 53 years
Location and soil type: Les Pimentiers, 53 year-old plot. Stony, ferrous and draining soil; gentle slope plot.
Ageing potential: 5 years.
Food and wine matching: Monkfish, scallops, Comté cheese
Tasting notes:
2007: Colour: Light gold nuances Nose: Fruity, with aromas of peach and apricot and a light vanilla oakiness that appears progressively. Palate: Fruity, fine and fat, with persistent notes of citrus and pit fruits. The oak is well integrated and gives light spicy overtones.
2006: Colour: Pale yellow. Nose: unexpressive at first, then opens into aromas of pitted fruits -- peaches and apricots -- and a touch of aniseed. Palate: fruity, fine and round, with good minerality. Powerful retrolfaction, and great finesse. To keep at least another six month; will improve for another four to five years.
2004: "The nose is a bit closed at the moment, but one still gets hints of floral aromas with touches of tree fruits – peach, apricot. On the palate, the wine is supple with a light tarness followed by richness and fresh grape, apricot and citrus fruit flavors. There are hints of tart candies, and a long finish (bottled at the end of October 2005)".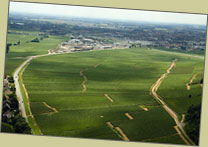 About Savigny les Beaune:
Savigny les Beaune is one of the largest communes on the Côte de Beaune. Here the vines cover a total of 383 hectares.  The vineyards run from up behind the village down to the D974 road close to the Corton hill.
East of Savigny les Beaune is where you'll find the majority of the vines. Here the valley of the river Rhoin opens up into flatter land. In the middle of the plain is 150 hectares of village land. The 22 premier crus are divided into two groups – one along the Paris-Lyon motorway and one on the Pernand-Vergelesses side.
Savigny les Beaune produces more red wine than any other commune on the Côte de Beaune. There is white Savigny les Beaune, both on village and premier cru level, but the output is only just above ten percent of the annual production.